Commercial Door Repair

Offices, storehouses, and retail spaces all have a complex entry and exit system that needs proper maintenance and service to keep a business operating as it should. Alpine Door Service has the skill and expertise to provide a complete door system installation or commercial door repair service for your commercial needs. We have been providing services to our commercial clients all over Texas and are determined to keep the entry and exit to your commercial space intact.  We know that choosing the right commercial door repair company is just as important as choosing the right manufacturer. The right company will provide quality repair work of the same standard as the original manufacturer.
Whether you need immediate help in door repair or need to maintain them so they function properly, Alpine Door Services can assist you according to your needs.  We have the necessary expertise and resources that make us sought-after in commercial door repair in Texas. Our mission here is to provide quality customer service by handling all your commercial door repair needs and planned maintenance requirements.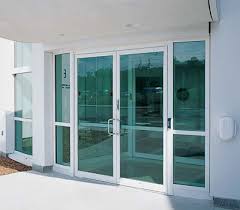 Our Commitment
Our service team is committed and equipped to give you satisfactory commercial door repair service and has years of technical experience to meet the industry's growing demands. Our skilled technicians can identify and fix all issues related to your commercial doors with speed and professionalism. We put years of knowledge to work, so the service we provide meets your needs.
Services We Offer
As professional commercial door repair service providers, Alpine Door Services has expertise in services that include:
Automatic sliding door repair and installation
Commercial glass and board up services
Dock door and door leveler repair and installation
Commercial door operator repair and installation
Rolling security grilles and door hardware repair
Door access control repair and installation
Storefront door repair and frame repair
And many more
Alpine Door Services will answer the question that you ask yourself, "Who is the most reliable commercial door repair service near me?" No door job is too big or too small for us, and we encourage you to benefit from our services.